Suleman Altaf, who knifed the boy to death as he tried to stop an attack on his mum, was arrested by Kent Police in Dungeness after he was intercepted while trying to sail to France.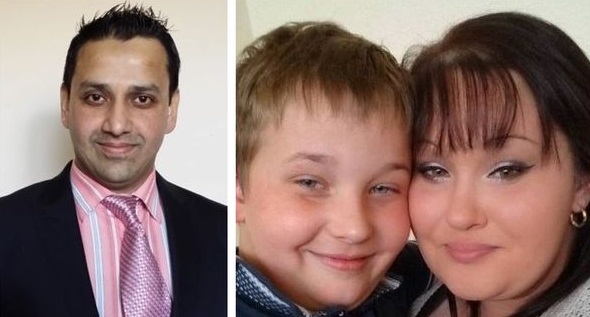 A court heard how Altaf had launched a frenzied knife attack on ex-partner and mum-of-four Katarzyna Bastek in Miles Platting, Manchester on June 9 last year.
Her son Jakub Szymanski, who tried to step in and stop the attack, sadly received a catastrophic injury to his neck, which proved fatal.
Altaf, who was in the home for just two minutes, then took a taxi to his home in Slough, where he collected his belongings.
He then drove to Kent, where he made his attempt to sail across the English Channel in a dinghy.
But he was intercepted by a lifeboat crew the following day about four miles out at sea and said he intended to sail to France before continuing his journey to Portugal.
After almost an hour of negotiation, Altaf agreed to abandon his plans and accompanied the crew back to Dungeness where he was arrested by police and transferred back to Manchester.
During an interview, Altaf admitted being at the home address of Katarzyna Bastek the night before, as a final effort to re-establish contact with his son – not Jakub – who he had not seen in more than seven years.
The court also heard how, on that night, Katarzyna was in her lounge on the phone talking to her friend when she saw a shadow in her hallway which startled her.
On getting up to see who it was, she was confronted by Altaf, who was armed with a knife.
She immediately feared for her life and begged him to leave.
Altaf launched a frenzied attack on Katarzyna and shouted to her friend who was still on the phone to call the police – despite suffering serious injuries.
She also called for help from her son Jakub, who was upstairs but came to her aid.
Altaf turned his violent intent towards him, before resuming the attack on Katarzyna.
Still shouting for him to leave, Altaf said, "I can leave you now", before he calmly left the property. And it was at this moment Katarzyna realised Jakub had been horrifically injured.
Emergency services attended the scene but sadly Jakub was pronounced dead in hospital at about 10.30pm.
Katarzyna herself had been seriously hurt, including nine stab injuries, various facial fractures, chest injuries, a collapsed lung, along with nerve and vascular injuries. She was operated on the same evening.
Altaf, of The Frithe in Slough, Berkshire, received a mandatory life sentence, with an order he is to serve at least 30 years before being considered for parole.