Amir Khan's wife has denied claims she threatened to destroy a former BBC presenter who had accused the boxer of flirting with her.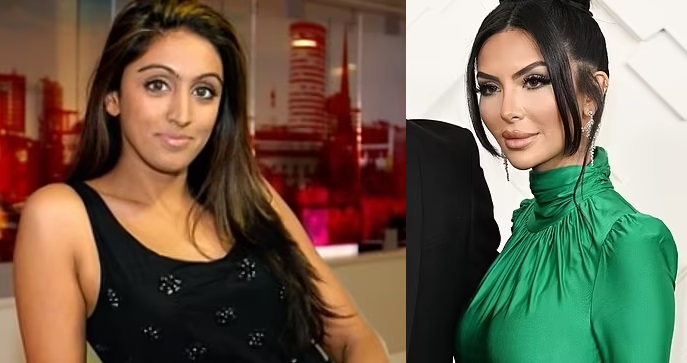 Faryal Khan said she had never even seen Suzi Mann's face, let alone says she was going to ruin her.
Suzi, 45, had  claimed Faryal, 32, pretended to be Amir on Twitter and become 'vile and abusive'.
The presenter, who has helmed BBC Asian Network's Official Asian Music Chart Show, claims she was sent messages by Khan, 36, after they first met in 2016 when she hosted a concert in Manchester.
She said that following their encounter, Khan repeatedly messaged her on WhatsApp 'flirting' with her and 'making advances', which later escalated when he began calling and leaving her voicemails.
Suzi later said that Faryal had messaged her after seeing that the boxer had been in touch with her.
But Mrs Khan denied the claims today, telling :  'This is all untrue. Amir has denied the accusations and doesn't even remember this woman.
'And what's confusing is, why has it taken her seven years to address this?
'She claims I said I'd 'destroy' her… it's a load of rubbish.
'I've never messaged her on Twitter – I don't even remember ever seeing this woman's face.'
The allegations come in the wake of news that Mr Khan had separated with his wife  Faryal Makhdoom over a scandal after the sportsman allegedly begged a model to send him pictures. 
Amir Khan's representatives told there was 'no truth' to Ms Mann's allegations. 
Suzi Mann posted the allegations of Mr Khan's behaviour to her almost 19,000 followers on Instagram earlier this week.
She said: 'I first met Amir Khan in 2016 whilst I was hosting Arijit Singh in Manchester!
A couple of days after the concert, I started receiving WhatsApp messages from an unknown number, with someone claiming to be Amir Khan!
'I immediately had to ask, actor or boxer? Unfortunately it was the latter!
'On a more serious note, these messages continued and then I started to receive calls and voicemails from Amir Khan himself.
'Now I've been in this industry too long to not know when someone is flirting and making advances. 
'This was not something I felt comfortable with and I chose to not entertain it, but remained professional.