Amir Khan's wife Faryal Makhdoom has posted a lengthy statement in response to her husband's text exchanges with bridal model Sumaira.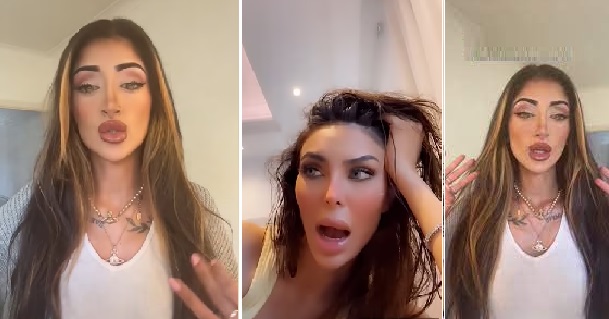 Earlier this month, it was alleged the boxer, 36, contacted bridal model Sumaira online and told him that he and Faryal, 31, were 'not properly together' and that their marriage was 'a bit of a business arrangement'.
Addressing his denial, Sumaira, 25, shared a TikTok video in which she accused the boxer of lying and threatened to disclose more screenshots of their conversations, prompting his wife Faryal, 31, to address the remarks in an Instagram Story.
Faryal, who shares three children with boxer Amir, has in a new statement described Sumaira's actions as a 'hate campaign' and has denied that she is 'responsible for Sumaria's current mental state.'
'Over the duration of the last 7 days, I had had private conversations of mine dissected and torn apart by an alleged 'legal representative' acting on behalf of Sumaira, who has taken to social media with what I can only describe as a hate campaign,' Faryal wrote.
'My name has been used in almost every single story she has posted in a bid to tarnish my reputation and name label me as not only a woman who has no 'self respect' but Amir's supporter and enabler in these circumstances, all because I refuse to publicise the private dealings I have with my husband.'
'How I deal with my marriage and my husband is not the concern of anyone else. I refuse to play out my marriage publicly, the situation has been humiliating enough for me and I will not further play in the spectacle created by others in order to satisfy their desires.
'I will stand strong in my stance that I did not owe Sumaira anything more than a civil conversation.'
Faryal then addressed Sumaria's claims that she was unaware Amir was married, writing: 'This woman was not under the impression that Amir was a single bachelor, yet she continued on speaking to him whilst gathering her evidence to take to social media.'
'I am a woman who receives abuse on a daily basis simply for existing and I knew she would also receive the same for even entertaining a married man, no matter what spin she put on the story.'
'I'm now being made responsible for Sumaria's current mental state. Her 'legal representaive has claimed that Sumaria suffering with her mental health as a result of her social media presence and exposures in her exchanges with my husband Amir and this has somehow become my fault too.'
'I was the one who was disrespected, lied to and embroiled in scandal and once again, it has become my fault.'
'Amir and Sumera are both adults who engaged in consented communication. They did not consult me when exchanging messages nor did they consider or respect me when building a "bond."'
'I will not be dragged through the mud now for not "supporting another woman". This woman had no respect or regard for me as a woman and as Amir's wife. There was also no consideration of my mental health.'
'I am not in control of Amir's actions not those of Sumaira. I had a civil conversation with her which is more than most women in my position would be willing to do.'
Faryal finished her statement by addressing Amir's previous 'scandals,' explaining: 'I am being criticised for being Amir's wife, for still staying with him knowing his "track record".
'This is the man I am married too and have three young children with. The whole world is aware of his track record, his reputation precedes him, why would you as a single woman want to engage in a conversation with him at all?'
'My focus is my children and shielding them from all that is happening.'