Amir Khan's marriage has been rocked yet again after a new woman has claimed she had an affair with the boxer over four months – which only ended when his wife Faryal Makhdoom threatened to 'name and shame' her.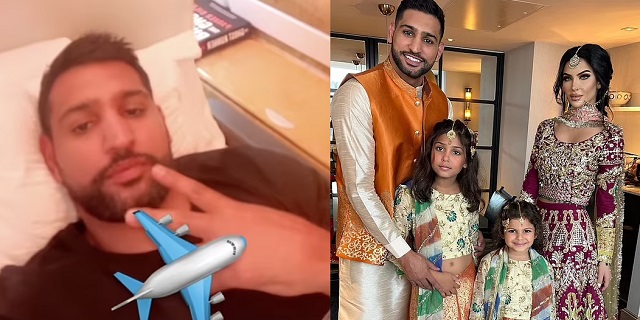 The unnamed woman has revealed that the champion fighter admitted his marriage was 'on the rocks' and said that she spent time with boxer.
The woman reportedly said she met with Amir on several occasions, but that their fling ended when she received a call from his furious wife.
The latest revelations from another woman, who said that Amir messaged her on Instagram after she viewed his profile.
The paper reports that she said: 'I got a notification that I had a message from Amir Khan. I was surprised at first, thought it was a joke but he asked me for my number and then started messaging me on WhatsApp.
'He was intense straight away and spoke about his marriage problems. I thought he was very confident.'
She reportedly also claimed that Amir rang her 'and told me he was in an unhappy marriage — and it was more of a business arrangement.'
Amir reportedly sent a number of selfies to the woman from a Pakistan work trip and asked her to send him some 'pictures'.
He wrote: 'I need to let me have u for a day locked up with me. Make it naughty. No holds bar. Everything goes. U know it's been 4 months for me.'
After they allegedly met at a London hotel, the woman claimed that Amir had gone to his friend's house to FaceTime his wife to avoid suspicion.
When he returned, she said, they shared passion.
The woman also claimed that Amir told her he loved her and even asked her to be his girlfriend.
The next month, she said, he told her his wife had caught him cheating – which he seemingly denied to the woman, saying 'it was an old video on his phone'.
The pair are said to have met up one more time before Amir told her his wife had found her number on his phone and blocked her.
She then received a phone call from Faryal, she claimed, in which she said she told her that 'she wanted to know what was going on' and that 'Amir had told her I was a fan who was harassing him'.
Amir previously admitted he 'regretted' messaging a model named Sumaira, revealing he'd contacted her out of 'boredom' and telling that he'd go through therapy to stop him from contacting other women. 
Khan's marriage to the mother of his three children was left in peril after the sportsman approached bridal model Sumaira online and eventually asked her to send her pictures. 
Amir has today been pictured without his wedding ring, and it is now understood that he and Faryal are splitting their time between their homes in Dubai and Britain while the influencer decides whether she wants to end their 10-year marriage.
A source close to the Khan family told: 'Faryal is taking time to think about whether or not to walk away. She's going through a very difficult time and choosing to focus on her children while she and Amir continue to co-parent.'