A man who smuggled heroin with a street value of about £1.5m into the UK in balloons and gloves has been jailed.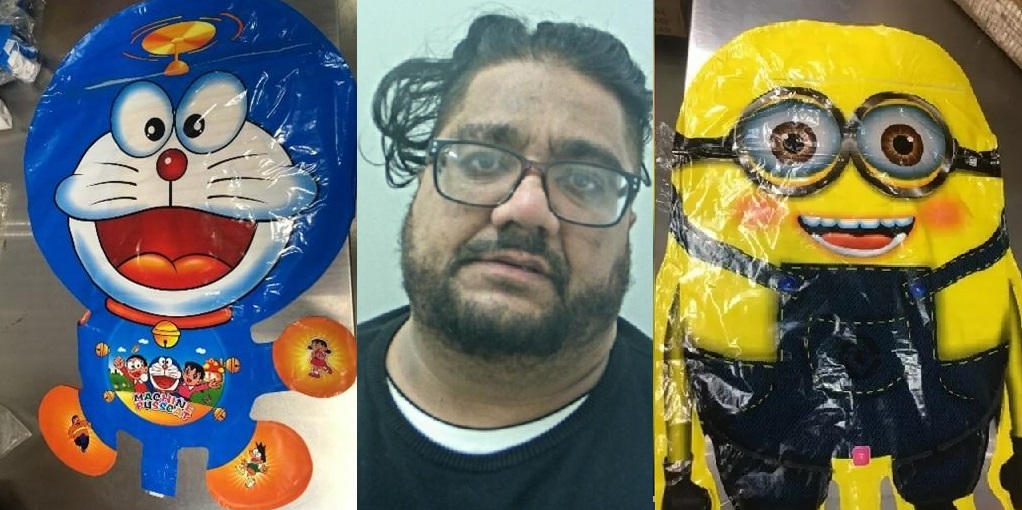 Lancashire Police said Akhlaq Muhammad, from Blackburn, also hid drugs in a coffee machine and a carpet in an attempt to trick customs officials.
It said the 42-year-old had conspired with people in Pakistan, Dubai and Birmingham to smuggle the heroin.
Muhammad admitted his part in the conspiracy and was sentenced to six years in prison at Preston Crown Court.
Between that date and September 2022, 11 separate packages were sent to addresses linked to the defendant, including addresses in Canterbury Street and Whitebirk Road, Blackburn.
The force said he used variations of his name and those of family members to have 11 packages of heroin with a combined weight of 50lb (23kg) delivered to properties in Canterbury Street and Whitebirk Road in Blackburn.
Further parcels were sent to an address in Birmingham, with Muhammad travelling to the city to retrieve the consignments.
Different spellings of Muhammad's name were used on each of the parcels.
The court was told that in February 2021, 41kg of heroin was shipped to the Canterbury Street address.
Then in March 2021, law enforcement officers in Karachi detected 700g of heroin contained within a 1.1kg parcel of plastic bags, also destined for Canterbury Street.
The following month, German officials stopped a package containing coffee machines and found 5kg of heroin within – this was addressed to an alias of the defendant.
In June 2021, Pakistan officials intercepted a parcel of envelopes and found it to contain 200g of heroin, address to an 'Ikhlaq Muhammad'.
And then in October 2021 a DHL consignment, labelled 'gift pack kitchenware' was intercepted, which also contained heroin.
The court heard how in April 2022 the defendant travelled to Birmingham to receive more parcels, although some of them were stopped at Birmingham Airport, including one which had heroin concealed in garments.
The total amount of heroin seized from all the consignments was 11.239kg with a wholesale value of 1kg being around £18,000, although the wholesale amount in Pakistan for 1kg was markedly cheaper, at £2,000.
In the UK, that equated to a wholesale value of around £198,000.
The court heard that if the 11.239kg of heroin has been broken down into £10 street deals this would have equated to £749,260.
He was subsequently charged with and later admitted conspiracy to fraudulently evade a prohibition on the importation of a Class A drug.
Speaking after sentencing, Det Ch Insp Tom Edmondson said the drug trafficker had considered himself "a criminal mastermind" and had believed he "could outsmart the authorities", but thanks to the hard work and diligence of the investigation team, "we have managed to put a pin in Muhammad's sophisticated criminal network".
He added that he hoped Muhammad's sentence sent "a clear message to any organised crime network that East Lancashire is not a safe place to operate".