A showoff Solihull family has been told 'you are not the Peaky Blinders' after ambushing a relative amid a long-running dispute. Abbas brothers Ali, aged 32, Zain, 28, and Bilal, 21, along with relative Mohammed Javed, 27, appeared delighted as they avoided jail.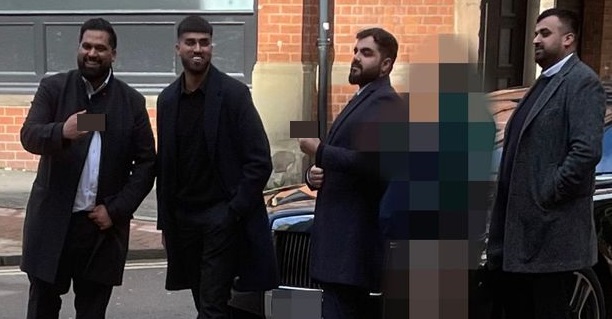 Wearing suits and overcoats they filtered out of Birmingham Crown Court before posing for pictures in front of a luxury black car. Moments earlier a judge had told them to 'grow up' and security staff had been put on standby due to simmering family tensions.
A long-running feud came to a head on Coventry Road in Small Heath when the group turned up in a Volkswagen Golf, some armed with weapons, and started shouting at a family member 'We're here to kill you' and 'we're going to f*** you up'.
CCTV captured Javed driving the Golf back and forth at speed before Zain Abbas hopped behind the wheel of the victim's Mercedes van and then sped off. Two people were struck by vehicles in the incident but avoided serious injury.
All four culprits were caught and confessed, but only after Judge Richard Bond confirmed they would not be sent to prison.
The Abbas brothers, of The Crescent in Solihull, and Javed, of Coleshill Road, Marston Green, admitted affray and were sentenced to 12-month community orders. Zain Abbas and Javed also pleaded guilty to dangerous driving and were banned from the roads for a year.
Judge Bond said: "In the 1890s the Peaky Blinders were a criminal gang who were associated with various areas of Birmingham. They were based in Small Heath. You are not the Peaky Blinders.
"You decided to take the law into your own hands. You did that because I understand there's this huge family feud between your dad and his brother. Rather than turning the other cheek you thought it appropriate to bring your dispute on to the streets of Small Heath."
He added: "I know the reason you committed this was out of family loyalty. You do need to grow up I'm afraid and be more mature about this".