Junayd Haris, a rear seat passenger in the car, was killed in the crash shortly after 8pm on May 27, 2020, Bradford Crown Court heard.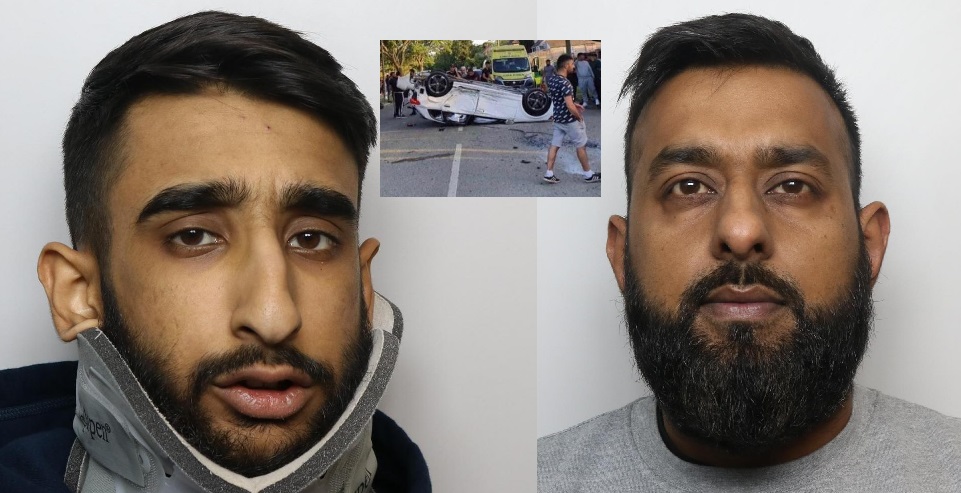 Usmaan Zahoor, 22, of Northfield Place, Manningham, Bradford, pleaded guilty to causing death by dangerous driving and to causing serious injury to two other young men in the Audi by dangerous driving. He was jailed for seven years and four months.
Waqas Iqbal, 34, of Brantwood Crescent, Heaton, Bradford, was convicted of the same three offences after a trial and imprisoned for five years.
Prosecutor David McGonigal said the crash took place at the crossroads at Brantwood Drive, Haworth Road and Chellow Grange Road.
Zahoor, who was disqualified from driving and uninsured, approached the junction at between 51mph and 63mph in the Audi and didn't give way.
His car was being closely followed by Iqbal in his BMW. The court heard he was effectively tailgating the Audi causing a brief but obvious danger.
The BMW 'propelled' the Audi into going more quickly and dangerously and to not giving way at the junction, it was stated.
The Audi collided with a grey Mercedes and was thrown across the road into the entrance of Chellow Grange Road where it hit a virtually stationary red Toyota van. The Audi was flipped on to its roof and travelled further down Chellow Grange Road before coming to a stop.
The Mercedes driver and his wife and three children were not seriously injured but shocked and shaken up and their car was significantly damaged.
The driver of the Toyota van and his cousin were also very shocked. One of them was bleeding from the head and the vehicle was badly damaged.
Iqbal, whose car wasn't involved in the crash, stopped at the scene and gave his details to the police.
Zahoor told the police he couldn't remember anything after 4pm that day and said that Junayd Haris was his best friend.
Iqbal denied any wrongdoing. He said he didn't know Zahoor and the court heard there was no reason to believe that they knew one-another.
During his trial, the prosecution said he drove up close and encouraged Zahoor to drive faster 'creating an element of competitive driving.' A victim personal statement read out in court by Junayd's father, Ridwaan Haris, spoke movingly of the family's heartbreaking loss.
Zahoor was banned from driving for five years on his release from prison and Iqbal for four years after he has served his sentence.
Both must pass an extended retest to get their licences back.