A conman dealer jailed for a fraudulent car sales racket has been described as a 'neighbour from hell' who caused people in his Birmingham neighbourhood to move house. Mohammed Sajad was sentenced to two years and 11 months for a three-year scheme selling 'deathtrap' vehicles to people all over the country, many of which were dangerous and unroadworthy.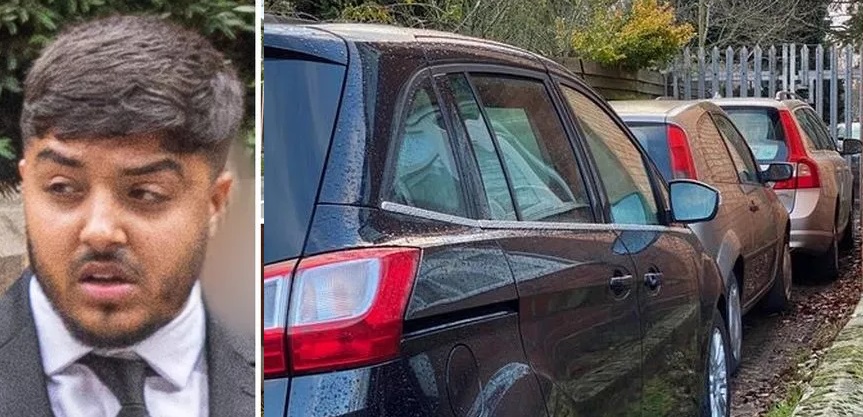 Birmingham Crown Court heard the 24-year-old, along with others allegedly involved in the criminal operation, made neighbours' lives a 'living nightmare'. Now a resident of Vibart Road, Yardley, has lifted the lid on what it was really like between 2018 and 2021, when Sajad wreaked havoc on the street.
Speaking anonymously to Birmingham Live she said: "It was a nightmare. We always had a quiet, lovely and friendly neighbourhood but it was trashed so quickly.
"Cars were parked everywhere. Neighbours lost their driveways. We found out people's drives and houses were being used as backgrounds to sell cars in adverts.
"The attitude was one of 'I don't care about anyone or anything, I'm going to make life a misery'. Everyone wanted to sell up and leave but couldn't. The homes with cars blocking their drives, people didn't want to buy houses with no access.
"It caused them a lot of stress. A couple of neighbours were really ill over it. It drove away a couple of people."
The resident recalled an incident where a customer who had bought a 'bad car' from Sajad contacted her about it afterwards because her house had been directly in the background of the advert. She claimed at any one time up to ten cars for sale would be left on Vibart Road as well as more vehicles blocking a private access road which leads off it.
The neighbour also spoke of issues with trailers dropping off cars in the middle of the night and motors being driven down the street too fast. She praised the community spirit, as well as the input of Birmingham City Council Trading Standards and the police which brought an end to the issues.
The resident described Sajad as a 'neighbour from hell' but added it was unfair to solely blame him as he was not the only one responsible. She said: "This is the right outcome and hopefully it sends a message to people who behave in this way that they have to respect our communities."
Others are suspected to have been involved but Sajad is the first to face justice having admitted an offence of conspiracy to defraud. On top of his jail sentence he was hit with a ten-year Criminal Behaviour Order (CBO) restricting his ability to sell cars in the future.
The court heard he advertised supposedly 'stunning' cars on eBay, Gumtree, Facebook and Auto Trader but grossly misrepresented them. Some were bought in a 'filthy' condition with used tissues inside and other undisclosed faults while some vehicles were completely unsafe. One customer was told he was 'lucky to be alive' after buying a 'timebomb on wheels' which he had driven back to Lancashire.
Sajad purported to be operating named businesses and used aliases such as 'Adam' and 'James' when talking to buyers. When people attempted to return vehicles he misdirected them with false business addresses, claimed some vehicles were 'sold as seen' or just simply did not bother to respond.
He scammed around a dozen people out of more than £58,000 in payments, although it was estimated the true cost to victims was well above £100,000 due to the repair bills they were saddled with.